---
Premium-Quality Lobby Signs to Enhance Business Image
Making a good first impression on one's customers is extremely important to every business. This is especially relevant for those facilities where individuals get familiar with your services in person. That's why, in order to attract more people from the very first sight, it's necessary to use all available means, including small interior decor elements such as indoor signs.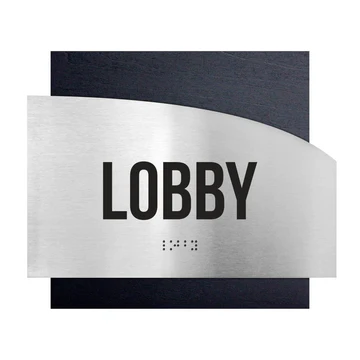 At Bsign, we know everything about premium-quality indoor signs that assist businesses in their branding. So, meet our custom lobby signs and learn why they are crucial for your facility to make a good first impression on visitors!
What are Office Lobby Signs?
Office lobby signs, also known as reception signs, are special interior or exterior signage plaques that inform newly coming guests about the reception location. They are displayed at the entrance in order to clearly mark the lobby space and provide other important pieces of information.
Most frequently, office lobby signs don't feature too many details except for the "lobby" signage itself in order not to confuse guests. However, in some cases, such plates may include a brand logo or contact information. This is done to promote a brand and put a visitor at ease in the unfamiliar space of the office lobby.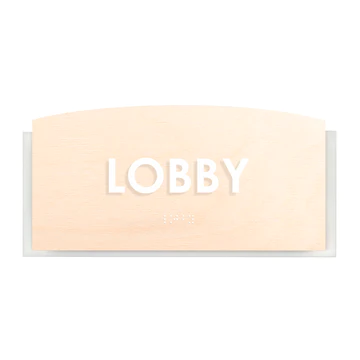 It's important to mention that a lobby sign is just one of many types of information signs your facility should have to establish a well-organized environment. However, its importance should never be underestimated due to the fact that it might serve as a business stand in the lobby area.
In addition to this, there are several more vital functions.
The Functions of a Lobby Sign
Often, indoor signs are perceived as decor elements that are mandatory only in hotels where it's necessary to number rooms for customers. Nevertheless, indoor signs are actually important tools within any commercial space, not only hotels.
Interior lobby signs are no exception. They execute an array of important functions that make your space more customer-oriented and better organized. Here are just three important things a good lobby sign can do for your business.
To Welcome Guests
To make a good first impression on customers and create a professional image for your brand, you need to set up a welcoming and inviting atmosphere in your place. Interior signs are important decor elements that help you to deal with this assignment more efficiently.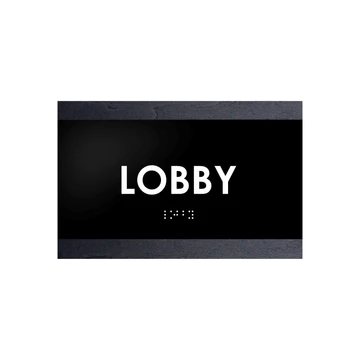 Lobby signs are special in that regard. This is because these interior signs are literally the first things your visitors will see when entering the place since these signage elements are placed at the entrance. Therefore, they welcome your guests and affect how warm this welcoming gesture will feel for them.
To Display Your Brand
Brand identity is what helps businesses to stand out from the crowd of competitors. If you interact with your customers directly, even such small elements as lobby signs should never be neglected.
Lobby signs are face and visit cards of your reception. This is where the customers start interacting with your business. That's why it's a great idea to use lobby signs as elements that promote your brand.
Except for helping to find the necessary reception area, lobby signs can include contact information and the motto of your brand. While these elements aren't necessary, they can heavily improve the way you communicate with your guests.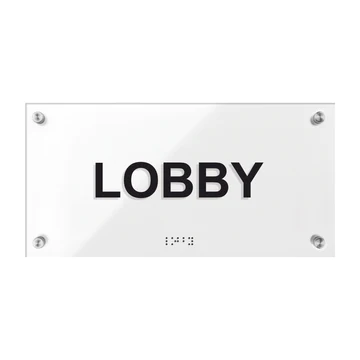 To Assist in Navigating
Imagine you coming to an unfamiliar facility. Probably, you wouldn't like to get confused and start wandering around the area to find the necessary premises. Your customers might feel the same, and that's why your commercial buildings need to have a clearly identifiable reception area where they can freely ask for assistance.
It's important to make these areas with clear office lobby signs so that customers can feel confident about their decisions. This means that corporate lobby signs aren't just good welcoming gestures but are in fact important wayfinding signs that simplify the visitor's journey through your place from the very first step.
Facilities Where Lobby Signage is Commonly Used
Lobby signs are versatile and can find their place in a wide array of environments, serving both functional and aesthetic purposes.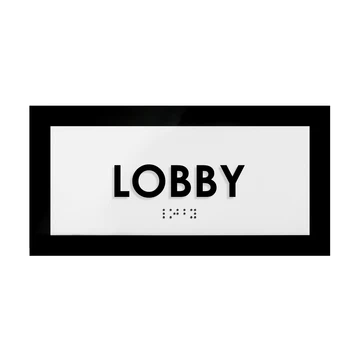 Corporate Environments:
Corporate Headquarters: As the face of the company, lobby signs here make a lasting impression on clients.

Office Buildings: Shared office spaces benefit from professional office lobby signs that enhance the overall atmosphere.

Executive Suites: Lobby signs in executive office suites add an air of sophistication.

Co-working Spaces: Reinforce branding and provide a welcoming environment.

Conference Centers: Effective wayfinding and branding are key in conference facilities.
Educational Institutions:
Schools: Lobby signs welcome students, parents, and staff.

Universities: They showcase school spirit and aid in wayfinding across vast campuses.

Libraries: Interior signs enhance the ambiance and convey important information.

Research Centers: Highlight achievements and innovations in research institutions.

Training Centers: Lobby signs reinforce branding in facilities for professional training.
Healthcare Facilities:
Hospitals: Interior signs create a reassuring atmosphere in hospital entrances and lobbies.

Medical Clinics: Guide patients while promoting healthcare services.

Dental Offices: Lobby signs welcome patients and provide essential information.

Wellness Centers: Convey a sense of tranquility in wellness center entrances.

Pharmacies: Enhance the customer experience in pharmacy waiting areas.
Hospitality Industry:
Hotels: Set the tone for a pleasant stay in hotel reception areas.

Resorts: Create a luxurious atmosphere in the resort and spa lobbies.

Restaurants: Display menus, specials, and ambiance in dining establishment entrances.

Bars and Lounges: Communicate the vibe and offerings in bar and lounge areas.
Retail and Commercial Spaces:
Retail Stores: Reinforce branding and promotions in retail store entrances.

Shopping Malls: Interior signs guide shoppers and showcase mall branding.

Banks: Communicate financial services and create a professional setting.

Car Dealerships: Highlight automobile brands and display showroom information.

Showrooms: Enhance product displays and customer experiences.
Cultural and Entertainment Venues:
Museums: Interior signs provide information, exhibits, and directional signage.

Theaters: Set the stage for entertainment and guide patrons.

Art Galleries: Display artwork, artist information, and gallery branding.

Sports Arenas: Welcome fans and showcase team spirit in sports venues.

Concert Halls: Create a grand entrance and promote upcoming events.
Government and Municipal Spaces:
City Halls: Convey civic information and create a welcoming environment.

Courthouses: Provide directional signage and maintain a professional atmosphere.

Police Stations: Enhance public safety facilities with informative signs.

Public Libraries: Offer wayfinding and promote library services.

Community Centers: Welcome residents and highlight community resources.
In these diverse settings, lobby signs serve as versatile tools for conveying information, enhancing branding, and making a professional image. Their adaptability and ability to blend aesthetics with functionality make them invaluable assets in a wide range of spaces and facilities.
Ordering Custom Lobby Signs from Bsign
Looking for custom signs that will satisfy your unique needs and complement the unique style of your facility? Look no further than the catalog of office lobby signs handcrafted by true professionals from the Bsign store!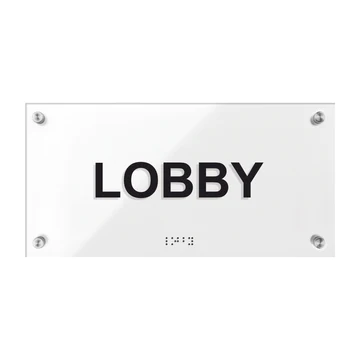 Bsign Store specialists have many years of experience in manufacturing unique custom door plates, and office signs for lobby spaces is just one of the areas of our specialization. We tailor each order to your needs. You are completely free to choose the shape, size, color, and materials of the indoor sign for your business. You can choose either the most economical option or try to find an elegant solution that will provide a touch of sophistication to your space. You can even customize mounting options in order to make sure the chosen indoor sign will suit your attachment surface.
Except for choosing minimum-invasive mounting options and high-quality materials, you can select styles and fonts for your office lobby signage. We want to make sure that your business space will become more inclusive with our products, that's why we offer only ADA-compliant fonts. An office sign with a braille font is a perfect solution if you want to ensure customers with sight disabilities feel at ease when being in your place.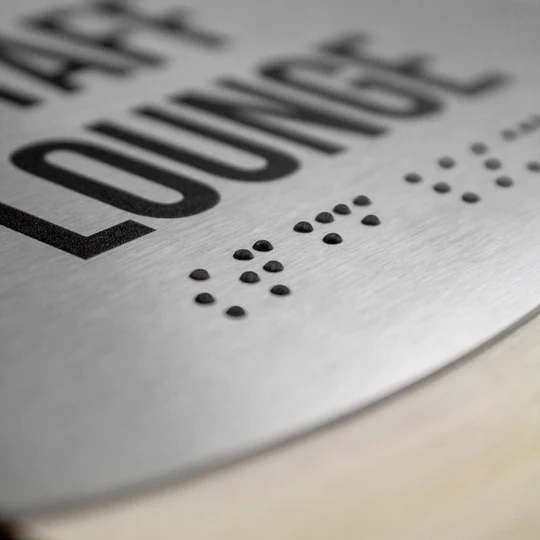 Benefits of the Reception Signs from the Bsign Store
Our company takes pride in the quality of our products and we are very glad to learn each time our customers share their feedback about their positive experience and the benefits of working with us.
Unique Handcrafting Technology
Bsign employs cutting-edge UV-printing technology to craft distinctive office signs that seamlessly blend form and function. This advanced printing method is at the heart of our commitment to delivering high-quality signage solutions tailored to your unique needs.
UV-printing technology harnesses the power of ultraviolet light to dry inks, adhesives, and coatings instantly. This rapid curing process eliminates the risk of smudging, bleeding, or fading, ensuring that your office signs maintain their crisp and vibrant appearance over time.
What sets UV printing apart is its remarkable versatility. This technology allows us to work with an extensive range of materials, including acrylic glass, stainless steel, and wood, giving you the creative freedom to choose the perfect medium for your office signage. Whether you envision sleek, modern acrylic signs or rustic, wooden designs, UV-printing technology enables us to bring your vision to life with precision and detail.
Furthermore, UV printing is an eco-friendly choice for your business. It produces minimal volatile organic compounds (VOCs) and requires significantly less energy than traditional printing methods. This commitment to sustainability aligns with our values at Bsign, ensuring that our office signs not only enhance your workspace but also contribute to a greener, more environmentally conscious future.
Versatile Designs
Never neglect the unique style of your company because style is what represents you and sets your company apart from the wide array of other businesses. Luckily, with Bsign you can choose not only the materials of your office lobby signs but the designs of those plates as well.
To enhance your office space, we suggest that you need to explore "Jure" or "Simple" designs. If the lobby sign will be used in a commercial facility, you need to take a closer look at the "Wave" style, which efficiently combines the best features of stainless steel and wood. For a rustic atmosphere in the hospitality facility, explore wood signs crafted in the "Sherwood" style.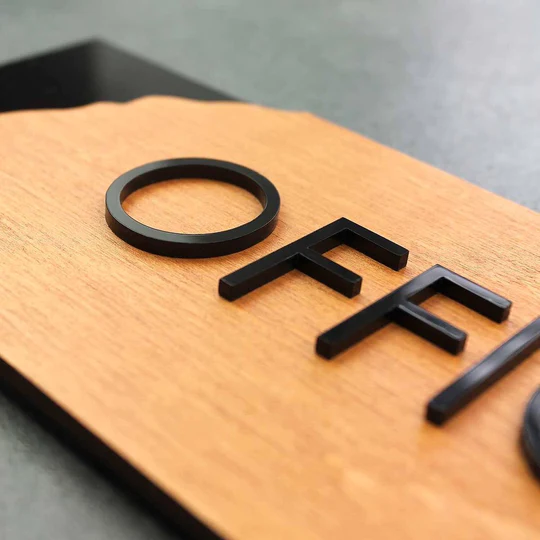 Durable and Easy-to-Maintain Signage Materials
Office signs crafted by Bsign are made of durable materials only. We don't use cheap materials that will become waste in several months of service. Instead, you can explore unique office signs for your lobby made of wood, stainless steel, acrylic glass, or a combination of these materials.
In addition to being durable, lobby signs made by Bsign are easy to maintain. For instance, all you need to clean a class-looking acrylic-glass sign is soapy water and vu à la - all stains and spots are easily eliminated in just several seconds.
Customer-Oriented Approach
Our orientation on the customers' needs is expressed not only in the free choice of materials, shapes, sizes, and designs. What's more important is that we offer different shipping options to make sure customers from all over the world will receive their products as soon as possible.
FAQ
What is a Lobby Sign?
Lobby signs, also known as reception area signs or entrance signs, are a type of interior signage prominently displayed in the entrance or lobby area of a commercial building, office, or business facility.
Why Do You Need a Lobby Sign?
Corporate lobby signs are designed to convey important information, branding, or a welcoming atmosphere to visitors, clients, or employees as they enter the premises.
What is the Best Style for Corporate Lobby Signs?
It depends on your facility's overall style and the interior design. If indoor signs are intended to create a professional appearance in a regular office, "Wave", "Modern", "Simple", and "Jure" designs from Bsign might serve this purpose quite effectively. If the space has a more sophisticated or rustic design, the "Sherwood" style might be a better option for your interior sign. In any case, you should choose office signs that feature simplicity, clearness, and readable letters while complementing your brand identity at the same time.