---
Premium Quality Recycle Signs from Bsign
Are you willing to contribute to eco-friendly initiatives that promote awareness among people about the proper handling of trash? If yes, then your facility needs to be equipped with high-quality recycle signs crafted by Bsign specialists! Make your space more eco-friendly and promote important messages using our stylish information signs.
Browse for Our Unique Collection of Recycling Signs!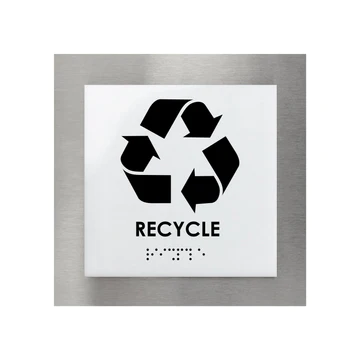 Custom Trash and Recycle Signs to Meet Your Specific Needs
Trash and recycle signs are special wall or door plaques that are used to inform individuals about places where they can get rid of their waste. Recycle signs go even further than just indicating trash bin areas as they might show which specific materials can be thrown there to facilitate the further recycling process. Recycle signs are often placed next to trash bins where specific materials can be thrown away, including plastic, paper packaging, cans, bottles, glass, caps, and so on.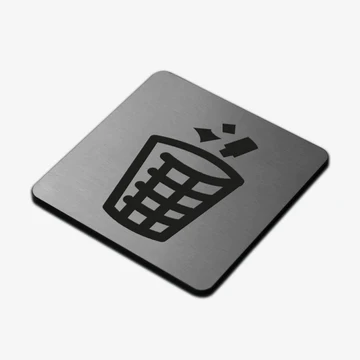 Trash bin signs are especially relevant in places that accept a large number of visitors. By informing them of proper recycling symbols, you will improve their understanding of the recycling culture's importance within your community.
Why Do You Need Trash Signs at Your Facility?
Keeping the area clean: It goes without saying that your space won't feel welcoming if rubbish is thrown anywhere. Inform your guests about proper areas with trash bins.

Contribution to eco-friendly initiatives: Whether you provide commercial services or not, it's important to keep in mind that the eco-friendliness of space around you depends on you. By marking trash bins with recycling signs, you will make it clear for individuals where to throw different materials like plastic, bottles, food, cans, tubs, and so on, which will consequently, simplify the trash sorting and recycling process.

Showcasing corporate responsibility: If you encourage your visitors to dispose of their trash in a proper way with recycle signs, you show that your business is responsible and ready to follow an efficient recycling program for further improvements. This way, recycling signs improve the reputation of your facility.
What Makes Bsign the Best Provider of Recycle Signs?
At Bsign, we craft recycle signs for private and business spaces because we believe there's never too much of information. Being informed and informing people is always good. If you decide to start doing this with our products, you'll enjoy the following benefits:
Versatility and Quality of Recycling Signs
Our recycling signs are made of high-quality and versatile stainless steel, wood, and acrylic glass. We contribute to eco-friendly initiatives by not just crafting recycling signs but by handcrafting products that are easy to recycle. This means we don't use PVC or other plastics in our recycle signs.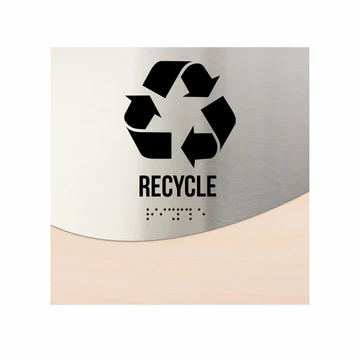 Unique Designs
Recycle signs from the Bsign store come in various designs to complement the interior decor peculiarities of any space. You can choose between modern or rustic recycle signs and metal sleek or elegant plates. Whatever design you choose, you can be sure that our recycled signs will meet all your highest expectations.
Customer-Oriented Approach to All Recycle Signs
We believe that handcrafting of recycling signs is the best way to satisfy the unique requests of every customer. You are free to choose shapes, colors, materials, recycling symbols, sizes, and fonts of the recycle signs you are going to use in your office, hotel, restaurant, or private dwelling.
Compliance with ADA Standards
We care about all clients who order recycling signs from us and we believe that you care about your visitors. That's why we make sure that our recycle signs will make your space more inclusive for all community members. We achieve this by complying with ADA standards and adding Braille fonts.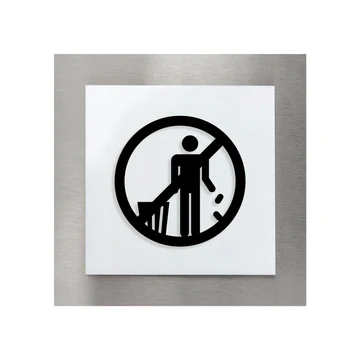 Bsign is a responsible business that contributed to both recycling and inclusivity initiatives!
FAQ
What is Recycle Signage?
Recycle signage refers to signs or visual indicators that are used to encourage or instruct individuals to recycle materials properly or indicate trash bins where you can throw litter to be recycled further on.
Where Recycle and Trash Signs Can Be Used?
These signs are typically placed in public areas, businesses, or residential communities to promote recycling awareness and provide guidance on how to separate and dispose of recyclable items correctly.
What Do Recycle Signs Mean?
Recycle signage often includes symbols, images, and text to convey messages about recycling practices, such as sorting recyclables, using specific containers for different materials (e.g., paper, plastic, glass), and the importance of recycling for environmental sustainability.