Kitchen Information Signs
---


Explore a unique collection of kitchen information signs and ensure a welcoming atmosphere in your food preparation area!
Making Food Prep Area Inviting with Premium-Quality Kitchen Signage
Looking for impressive wall signs to complement the interior design of your food prep space? Bsign products are exactly what you need! Are specialists have many years of experience in creating custom door plaques for offices, commercial spaces, hotels, and restaurants. These arrays of products, of course, include kitchen safety signs that simplify navigation and wayfinding for both customers and workers of your facility. We make sure our signage elements that inform people about the location of hand washing areas or food safety are easy to notice for everyone, regardless of their potential special needs.
Learn more about our collection of kitchen safety signs and make a custom order to suit the unique interior design of your food space!
Types of Kitchen Signs We Offer at Bsign
At Bsign, we consider all the potential needs individuals might have when navigating your facility and food space in particular. That's why we craft all types of kitchen decor signs that might bring some useful pieces of information, including:
Kitchen safety signs - plaques that inform about things and actions that are forbidden within a particular food preparation space;

Dining room signs/cafeteria signs - office kitchen signs that inform employees and visitors about the directions to special areas where they can have some meals;

Hand washing plaques - signs for kitchen walls that provide information about clean sink hand washing or utensil wash for employees.

Information signs - other types of signs for kitchen decor, including "Coffee Area", "Trash Bin", "Restroom", "Food Safety" signs, and others.
Enhancing Uniqueness and Inclusivity with Kitchen Safety Signs from Bsign
At Bsign, we believe all signage should be accessible to every community member. It is why our team works hard to design signs compliant with strict ADA standards. We ensure that all our signs feature a readable braille font and comply with other ADA rules. This way, we ensure accessibility across the board through our bespoke ADA signage. Our team also encourages our clients to follow AA guidelines when installing the signs to enable 100% accessibility for all.


What makes Bsign stand out from the crowd of other wall signs manufacturers is that we craft a huge variety of kitchen safety signs: from chic and sleek food safety signs to rustic and durable hand-washing plaques. Our major objective is to make sure that the suggested design fully complements the decor of your space, making the interior style of the food preparation space comprehensive and unique. For that purpose, we employ both long-lasting and flexible materials such as stainless steel, wood, and acrylic glass, and utilize a top-notch UV printing technology that ensures the premium quality of all the graphics you wish to be represented on the plaque.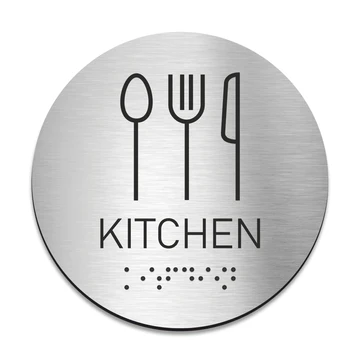 You have the freedom to select from a rich palette of wood and acrylic materials, each offering a spectrum of colors and versatile shapes tailored to your liking. When crafting your kitchen signage, we employ the added dimension of acrylic 3D letters, complemented by exquisite lightweight panels. To simplify the installation process, our adept sign manufacturers utilize double-sided tape and sturdy metal spacers. Moreover, our signs boast exceptional durability, capable of withstanding the test of time and the wear and tear brought on by the elements. This ensures that you won't find yourself burdened with the need for replacements in the foreseeable future.
Custom Kitchen Signs
Despite our long-term experience in the industry, we believe that our customers are the ones who know their needs the best. That's why we offer our service of handcrafting bespoke kitchen safety signs. This means that all products you order will be 100% tailored in accordance with your unique preferences and requests. Adjust sizes, the choice of materials, shapes of food safety plaques, graphic elements printed on their surfaces, and many more.
We believe that our customer-oriented approach is the best way to satisfy you with the quality of our work. That's why, except for colors, sizes, shapes, fonts, and materials, you are free to choose the design you want to complement your food preparation area. Choose between a minimalistic or classy look that will best suit your office or commercial area. Explore versatile "Modern" and "Classic" designs that reflect the welcoming atmosphere you are willing to achieve.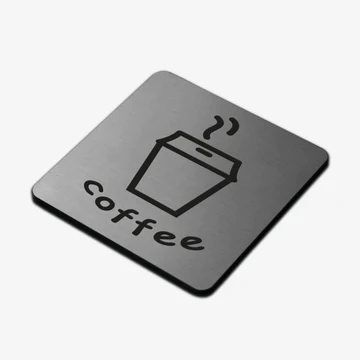 ADA-Compliant Wall Signs for Kitchen
One of the major priorities of Bsign specialists is to craft kitchen safety signs that will prevent disabled community members from feeling discriminated. That's why we make sure that our signage products fully correspond to modern inclusivity standards. We craft kitchen safety signs compliant with ADA requirements, meaning they are visible and easy to read for everyone, and might also include Braille fonts to make your space 100% accessible and inclusive.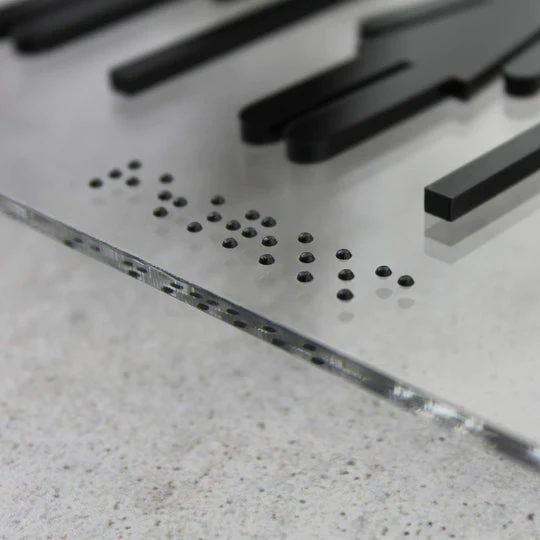 Why Order Kitchen Safety Signs from Bsign?
Still doubt whether your office space needs some of its rooms to have labels like kitchen safety signs created by Bsign? See two more reasons why it's better for you to place your order right now!
Handcrafted & Versatile Signs
Our in-house approach to the food safety signs manufacturing process is one of the reasons for the outstanding service of our store. Our team consists of talented and experienced designers who have access to cutting-edge UV-printing equipment. This allows them to create versatile designs, and the in-house nature of our business ensures straightforward and efficient communication with every customer. This leads to a much shorter manufacturing period and speedy delivery, while quality isn't violated.
Positive Customer Feedback
We believe that our relationships with customers are much more important than anything else. Our clients are willing to return to us because we always strive to make products of the highest quality that fully meet their expectations and unique requirements stated during the order placement procedure. We also care that our clients receive their orders quickly, that's why if the product is ready today, our store ships today! We are glad to learn your feedback because this makes us better and motivated to implement more innovations. We value your time, money, and preferences, that's why we always enable a hassle-free return if you aren't satisfied with the quality of our custom-made signs for your kitchen.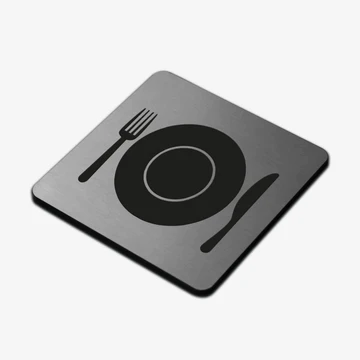 FAQ
What Are Kitchen Signs and Plaques?
Kitchen safety signs are special wall signs and plaques that inform workers and visitors about the location of dining rooms, cafeterias, hand-washing areas, things prohibited within the food preparation area, and more, depending on the needs and specialization of the facility.
Why Do You Need Kitchen Sign?
Kitchen safety signs are very important elements of the interior decor, especially in specialized facilities such as restaurants. In the restaurant kitchen, these plaques might inform about the placement of particular foods or utensil-wash sinks. This makes a workplace better optimized for employees. Beyond restaurants, kitchen safety signs can be used in other household facilities. There is a place for them in office space as well, since "Cafeteria" plaques can inform employees about areas where they can have their lunch breaks.
How to Get Personalized Kitchen Signs?
To get unique kitchen safety signs that everyone will notice, you need to contact the Bsign store right now and specify your custom requirements for the order.